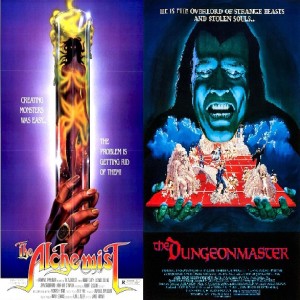 Friday Jan 22, 2021
Season 7: Episode 52: That Empire Pictures Retrospective Part 1: The Alchemist & The Dungeonmaster!
Recorded Friday December 18th & Saturday December 19th, 2020
Happy New Years, fans! That Horror Show Podcast is back and refreshed for 2021 and boy do we have a spectacular lineup for you. For this entire season, the dynamic duo Timothy Kazda and Chris Koenig are embarking on a retrospective of 80s horror and sci-fi movies produced by Empire Pictures! Originally founded in 1984 by that cinema huckster Charles Band, Empire cranked out some of the most off-beat genre films ever conceived until the studio's sad demise in 1988. And while Band would go off to form Full Moon Entertainment in the early 1990s with his company still going strong to this present day, the 80s era of Empire was an interesting and far more engaging time for Charlie's brand of exploitation entertainment. Therefore, for this January episode, we tackle the "The Alchemist" (1981, released in 1985) and "The Dungeonmaster" (1984)! How do these two films fare with your fine hosts? Tune in and find out! 
#CharlesBand #EmpirePictures #TheAlchemist   #Tubi  #TheDungeonmaster #THSP #sepn