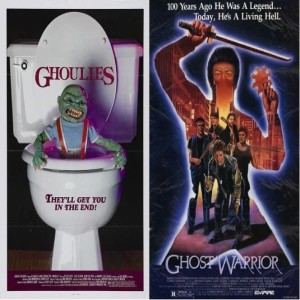 Sunday Feb 28, 2021
Season 7: Episode 54: That Empire Pictures Retrospective Part 2: Ghoulies &The Ghost Warrior!
Recorded Thursday January 22nd, 2021 and Tuesday January 26th, 2021
A Supersized THSP Episode!!!
Aloha, fans! That Horror Show Podcast brings you our second episode dedicated to the wild and wacky genre films from the legendary Empire Pictures. That special carnival barker Charles Band once again graces us with his early brand of cinematic cheese and we will forever be grateful to him for doing so. Listen in as your hosts Timothy Kazda and Chris Koenig dive into killer-puppet territory with "Ghoulies" (1984) and then tackle a more "mature" level of melodrama/science fiction/action with "Ghost Warrior" (1984; aka "Swordkill"). And fear not, for 'special guest star' and all around jokester Marc L. Rissmann from 'Sequel This!' joins in on the "Ghoulies" festivities, providing merriment and mirth for the hosts and the audience (hopefully!!!). Plus, this episode might take the cake for Chris Koenig providing the GREATEST stupid news article of 2021 for all to hear! Tune in to find out!
#CharlieBand #EmpirePictures #Ghoulies #GhostWarrior #THSP #sepn