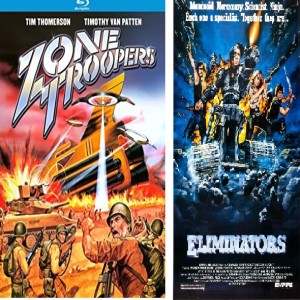 Thursday Apr 22, 2021
Season 7: Episode 56: That Empire Pictures Retrospective Part 4: Zone Troopers and Eliminators!
Recorded on  Wednesday February 24th and Thursday February 25th, 2021. 
What up, fans! That Horror Show Podcast is back with a new episode for their Empire Pictures retrospective. Your lovable guides Timothy Kazda and Chris Koenig review two films from Empire that could be categorized as the "lighter side" of that cinematic huckster Charles Band. Indeed, good ol' Charlie turns to his favorite genre form: the comic-book. Tune in and turn on as the hosts talk about the craziness that is "Zone Troopers" (1985) and then express their amusement over "Eliminators" (1986). So just sit back, crack up your drink of choice and give this episode a little spin.
#ZoneTroopers   #Eliminators #EmpirePictures #CharlesBand #THSP