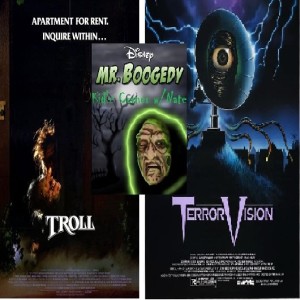 Friday May 28, 2021
Season 7: Episode 58: That Empire Pictures Retrospective Part 5: Troll and Terrorvision!
Recorded on Saturday April 24th, 2021 and Sunday April 25th, 2021
What up, fans! That Horror Show Podcast brings you another episode for this month. Your tireless hosts Timothy Kazda and Chris Koenig continue onward with their Empire Pictures retrospective for the year. Tune in as the hosts find some interesting qualities in the family-friendly "Troll" (1986), and then scratch their heads over the ridiculousness that is "TerrorVision" (1986). It's a nutty double-feature produced by that cinematic huckster Charles Band and could only come from that era known as 'The 1980s'! So sit back and give this show a spin!  
Plus a all new Kidz Corner segment with Nate!
#Troll  #Terrorvision #MrBoogedy  #THSP #CharlesBand #EmpirePictures