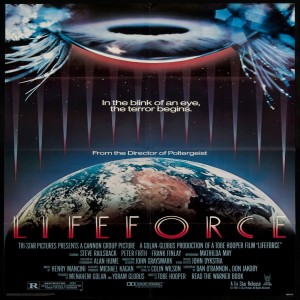 Friday Jan 21, 2022
(THSP Classic Episode!) Season 2: Episode 18: That Sci-Fi Horror Episode!
Recorded Tuesday October 11th, 2016
(THSP CLASSIC EPISODE!)
Hey there, fans! That Horror Show Podcast has tackled many horror movies, ranging from variety of subjects like a bloodthirsty Great White shark that managed to show up in three so-so sequels (the less said about the third and fourth film, the better!), any slasher film involving a masked psychopathic killer (and believe me, we got a lot more coming down the line), some Alfred Hitchcock classics, and a foul-mouthed murderous Thanksgiving turkey (referring to both the bird and the movie itself). But now, your hosts Timothy Kazda and Chris Koenig have decided to head past the stratosphere and beyond our own galaxy to explore the science fiction/horror genre.
There's no 'What Have We Watched' segment ("Boo!", "Hiss!"), but we have made up for that with three sci-fi/horror films that certainly fit the bill with this episode. So tune in as the show's hosts chat a bit about the vampire opus "Lifeforce" (1985), the stalk-and-slash antics of "Jason X" (2001) and the dark isolation of "Pandorum" (2009). Do these films deliver the goods? Listen in to find out!